Consistent with our vision to be the Experts Making It Easy, O'Brien® prides itself on being people powered, we employ the best the market has to offer.
We will give you all the training, encouragement and support you will need to succeed in your role. All we ask for in return is that you have a passion to drive and deliver great service by solving people's problems with real care.
Our training and development opportunities not only give you the skills you need to do your job well, but the ability to provide terrific levels of service. Whether you are a new or experienced Automotive Technician, Glazier, Administrator or part of our support function and management teams, we'll give you access to training for both professional and personal success.
Auto Technicians
If you choose to become an Auto Technician with O'Brien® you'll start your career with our Introduction Program which is part of the O'Brien® Technical Training Program.
All of our Auto Technicians are expected to enrol in the O'Brien® Technical Training Program which leads to a Certificate III in Automotive Glazing Technology our industry's trade qualification. With support from our Technical Trainers and your colleagues, you'll find yourself fully qualified with the skills to cover all aspects of modern automotive glazing.
There are plenty more opportunities to keep technicians equipped with the most up-to-date tools, knowledge and skills – from windscreen repair techniques to specialised lifting devices and Ezi-wire training, to the latest techniques in glass replacement on the latest vehicle models.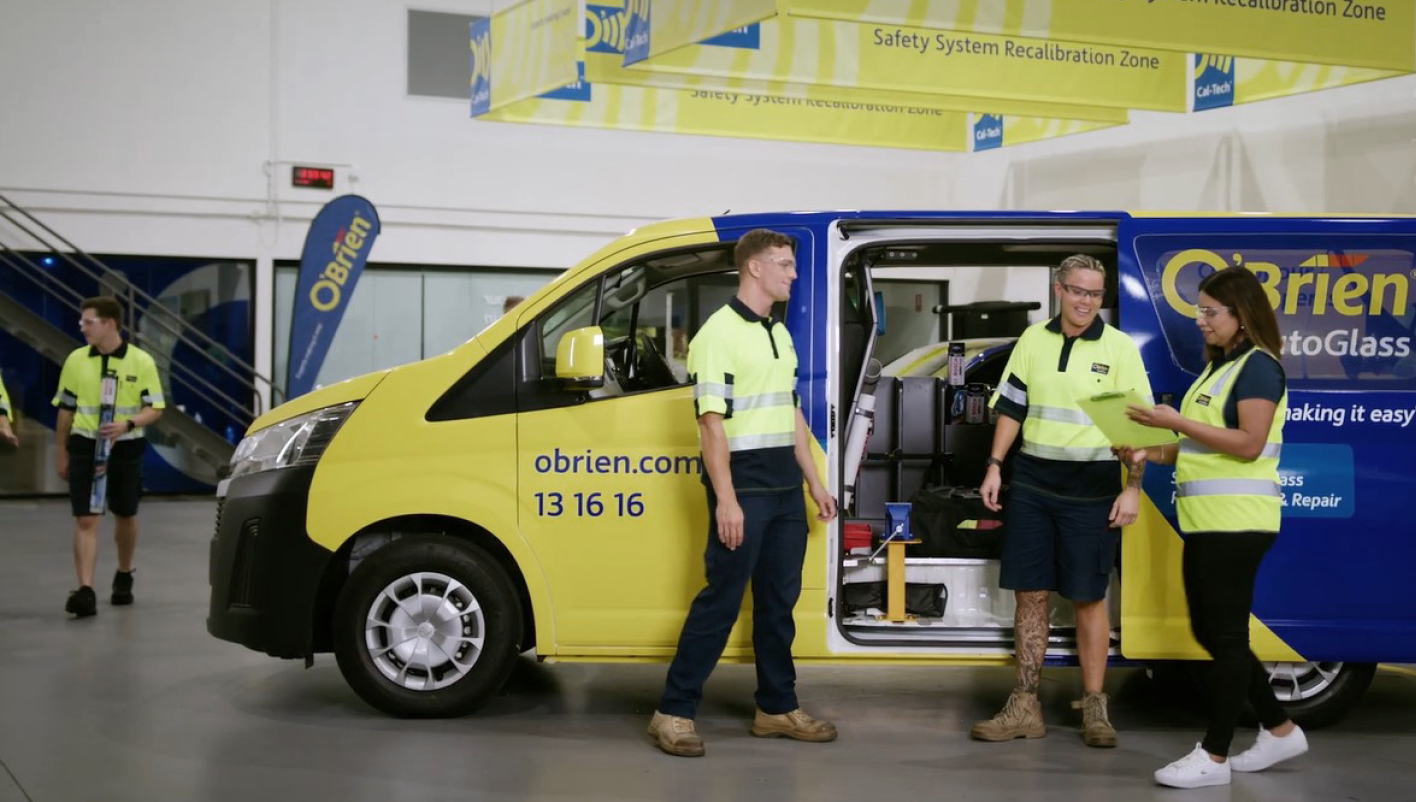 Other roles in our Vehicle Glass division
A driven business manager with the ability to make decisions, work to budgets and keep key performance indicators. Taking pride in achieving results and having a passion for growing the business through delivering high-quality customer service, ensuring our teams are well trained and equipped to deal with their day to day and being the 'local' Manager of our business.
These roles support the Operations Support Manager in the provision of day to day advice and support to the Auto Operations Network with respect to all processes and procedures including VPS, Billing, and general branch administration. You will also provide administrative support to the broader Central Operations team including leave support for Workforce Planning and project support as required.
Our distribution teams perform a business-critical function – ensuring we have the right glass, in the right place, at the right time. They undertake a range of warehouse activities within automotive operations and do this in a professional, timely and safe manner, observing the principles of customer focus, Occupational Health and Safety and operational excellence in all tasks undertaken.
Home & Business Glaziers
At O'Brien®, we are ready to help with all your home and business glass replacement needs.
Not only are all of our glass services Australian Standards compliant, we also have arrangements in place with most of Australia's major insurance brands, which could make your insurance claim easier. O'Brien® Home & Business Glaziers don't only deal with emergency fixes, every day is different and jobs could also include:
Safety and security glass
Commercial glazing
Shower screens or pet doors
Plus much more…
So whether you're an experienced Glazier or looking to start your career in the industry through our Apprenticeship Program, our Home & Business team could be exactly what you're looking for.
Other roles in our Glazing division
Administrators and Planners provide exceptional service and to meet each customer's needs. The role supports the regional or area team administratively and operationally. The role may have a specialist focus in Customer Service, Invoicing, Payroll, Purchasing, Service Recovery and Workforce Planning.
The Branch Manager has overall accountability for maximising the profitability of O'Brien® within a designated region. This is achieved through: Providing exceptional customer service; effective leadership of the people; effective communication; managing resources effectively; focusing the business on operational performance improvement; focusing the business on safe working practices and developing the business.
The Workshop Cutter is responsible for the daily operations of the factory. This encompasses applying technical knowledge and practical skills to efficiently cut custom glass for planned jobs as well as over the counter sales, management of stock – both glass and consumables, maintenance of plant and equipment and promoting Work Health and Safety in the branch.
Customer Solutions
Our award-winning Contact Centre puts our customers at the heart of everything that we do.
We serve more than 300,000 motorists each year, and in most cases, our consultants are the first point of contact in the customer's journey with O'Brien®. They are also the voice our Customers hear when dealing with their glass repair and replacement needs, where we make a difference by solving people's problems with real care. From consultants to senior consultants and team leaders – there is always an opportunity for movement and furthering your career with O'Brien® in the Customer Solutions department.
Head Office and Support Functions
These teams represent our service and brand, whilst ensuring our customers receive exceptional service which meets their needs. With a natural ability to problem solve and multi-task in their daily work, they assist and work with multiple stakeholders and ensure that communication lines between O'Brien® and our customers is efficient and seamless.
Our Head Office team are based in Padstow, NSW, where our major support functions for the business are located. With some 300+ staff on site, this is the heart and soul of our national operations. Teams onsite include:
Executive Leadership Team
Financial Planning & Analysis
Sales & Marketing
Information Technology
Human Resources
O'Brien® Central Operations
Padstow is also home to the largest of our Distribution Centres – a whopping 20,000 sqm facility housing in excess of 100,000 pieces of glass!