O'Brien Technician & TV Star, Nat, Talks About What It's Like to Start a Career with O'Brien
22 April 2022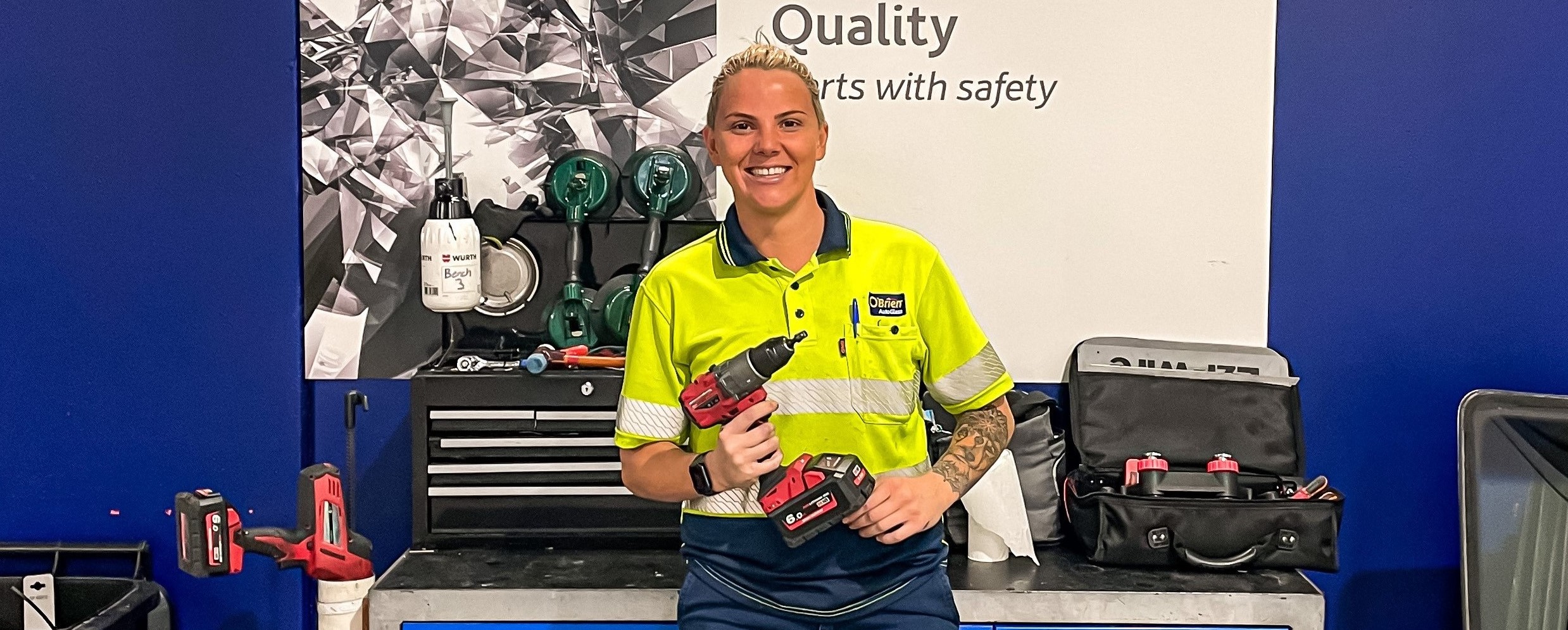 In our recent blog, we introduced you to Nat, the newest face of the O'Brien® national TV campaign. We got to know a bit about her, what makes her tick, and what it was like to film an ad for TV.
In part two of our interview with Nat, we find out more about her time at O'Brien® and how she came to start her career as an Auto Technician.
So Nat, besides being the new face of the O'Brien® TV campaign, tell us about what you do at O'Brien®?
I've been an Auto Technician here at O'Brien® for just over a year now.
I work in the Auto branch at Tuggerah, on the Central Coast NSW. I spend most of my time working on customers' vehicles, recalibrating for Advanced Driver Assistance Systems (ADAS), fitting and replacing windscreens and door glass, and fixing chips in windows. It's great fun and I really enjoy it!
Plus, I've almost completed the O'Brien® Technical Training Program which gives me a Certificate III in Automotive Glazing Technology. The on-the-job training in the program has helped me quickly learn the ropes all the while getting a nationally recognised qualification.  I'll soon be able to operate as a Mobile Technician as well and be able to service customers while out and about. Can't wait!
What does a typical day as an Auto Technician look like?
Since I'm currently based in-branch, each morning, I get in and get my workbench sorted out for the day. I make sure all my tools are there and ready to go for the day's booked jobs.  Then the whole team get together for a quick meeting and to do our mobility stretches, before settling into what's usually a busy day ahead.
On a typical day, I'll usually do about 6 ADAS recalibrations and maybe 2-3 windscreen replacements, but that varies of course. At times, it's more ADAS and sometimes it's more windscreens. But all up, I'll work on about 8-10 different cars each day, which keeps things interesting.
I use a bunch of O'Brien® tools and technology across the day, from the 1-Tek (that helps 1 person lift and install windscreens), to the O'Brien® Cal-tech® system. I'll also be online or on the phone with our support tech team a fair bit as well. I'm always busy, and every day is different – which I love.
You were a carpenter before becoming an O'Brien® Auto Technician. Tell us a little about what you did before and what led you to your current role here.
Yeah, I worked as a carpenter for about 6 years, but I actually did try to get a start as a mechanic or panel beater before that. I did my Automotive Cert II about 10 years ago, and I went to a bunch of mechanics looking for an apprenticeship, but no one wanted to hire a female for that sort of trade at the time.
Eventually, someone said I should try carpentry because I always enjoy working with my hands, so I gave it a go and I found someone happy to take me on.
I originally started working in framing, before moving on to building museum exhibitions, which was really cool. After a few years, I went out on my own, which was fun, but then I did my ACL injury playing soccer and I couldn't work, which meant no income.
That's when I realised I needed something a bit more financially stable and a bit easier on my knee. I still loved cars, and so when I saw this job pop up with O'Brien®,  I went for the interview and here I am!
What do you enjoy about working with O'Brien®?
I just love how hands-on it all is, and I'm always learning every day. Cars are constantly evolving, so there's literally something new to learn every time one comes through the door.
There are also a lot of opportunities for growth and development at O'Brien®, and the team here are so supportive and helps me out whenever I need it.
Also, full credit to O'Brien® for hiring so many women for these sorts of trades. As I said, that's not something I had much luck with 10 years ago, so I think it's cool how much O'Brien® does to support and recognise the women in the company.
The recognition you receive in general here is really encouraging too. We have a competition for the top tech of the month and the winner gets vouchers or gift certificates. I'm super competitive, so incentives like that really push me. I haven't won the top tech prize yet, but I did crack the top ten!
Do you have any words of wisdom for those thinking about starting a new career?
Honestly, just go for it! It's an awesome job.
I never thought of myself in this type of trade when I was younger, but now I'm here, I really do enjoy it.
Like I've said, there's so much room for growth and learning, and there are heaps of support available to help you be your best.
In this type of trade, you've got to have common sense and be really aware of safety and your training. If you follow the right training each time, you won't have a problem.
It helps if you're a people person too, so you'll get on well with your team members and customers.  Plus being fit and healthy is definitely a plus, as it's quite a hands-on job.
But really, you've just got to be open to it, and open to learning something new. You never know where it might lead you!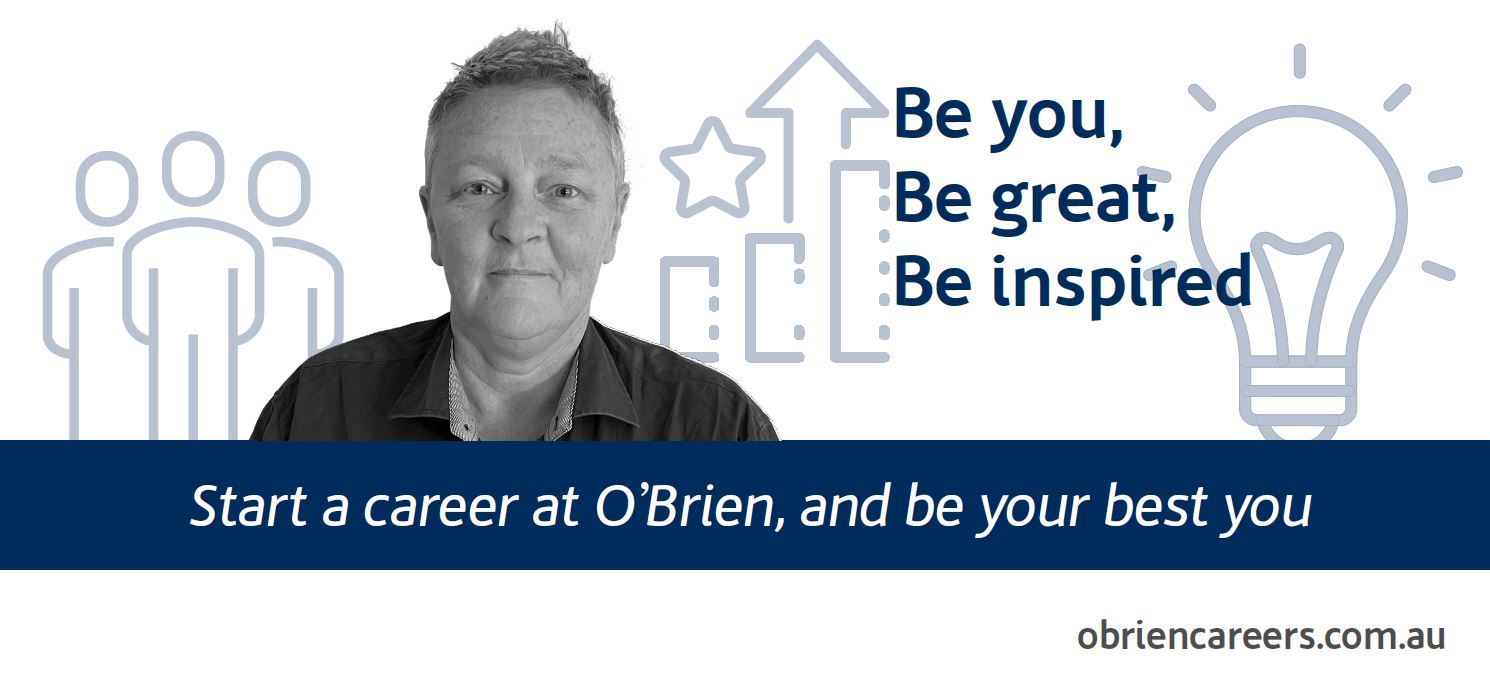 ---
We're constantly looking for stars, like Nat, to join our team.
If you think you'd be interested in a career with O'Brien® as an Auto Technician, or you'd like more information about the different types of roles we offer, visit obriencareers.com.au.
If you haven't seen Nat yet on TV, make sure to check out the latest O'Brien® ad below: